William Heath Robinson 1872-1944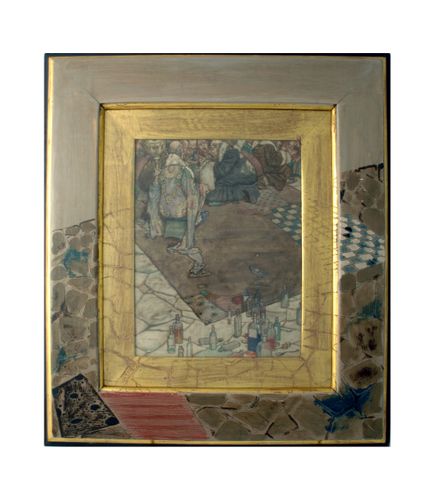 Description
The Lord Mayor held a long Council
circa 1910
Watercolour. Signed. In a later gessoed and decorated frame.

This is the original drawing for an illustration to Bill the Minder, a children's story written and illustrated with watercolour and line drawings by William Heath Robinson and published by Constable in 1912 as a luxury green-bound edition. The present illustration appears in the published work.

William Heath Robinson began work in the tradition of Victorian book illustrators, following in the footsteps of his father. He soon developed his flair for inventiveness and design and in the first fifteen years of the 20th century produced some iconic work. Although now best known for his later humorous drawings of gadgets, through which his name entered the English language, it is in these early illustrations that his artistic genius is recorded.

In the story, the flock of children entrusted to the care of Bill the Minder find the old King of Troy on top of a hayrick and set out to help him reclaim the throne of Troy from which he had been banished. This illustration is to a tale called The Doctor. The doctor in question had made his medicines taste good to get the children of the small town where he lived to take them. They proved so delicious that the whole populace deliberately made themselves ill by eating too many jam puffs and took to their beds to receive treatment. The whole town thus ground to a halt and became overgrown with rampant vegetables. On recovering his health and seeing what had happened, the Lord Mayor held a long council which decided the only solution was to burn the old town and build a new one and to put the doctor on trial as the author of their woes.

Height: 12.50inch (31.75 cm)
Width: 9.50inch (24.13 cm)

Condition
Excellent
Date
Circa 1910
Price
£10,500.00
Call Dealer
Email Dealer
View other items from Strachan Fine Art Ltd.