Steven Spurrier - Statue in St Tropez Harbour - chalk drawing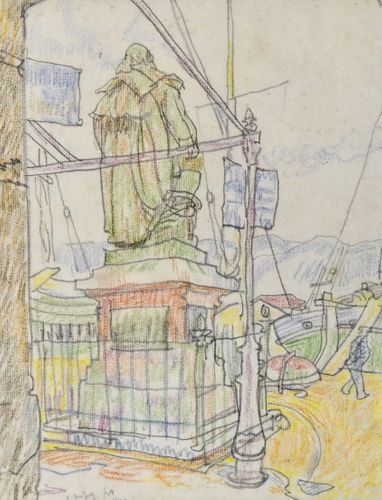 Description
STEVEN SPURRIER
(1878-1961)

Statue of the Bailiff of Suffren, St Tropez Harbour

Indistinctly inscribed
Coloured chalks of pencil, unframed

28 by 22 cm., 11 by 8 ¾ in.
(mount size 44.5 by 37 cm., 17 ¾ by 14 ½ in.)

After an apprenticeship to his silversmith father, Spurrier studied art and became a freelance magazine illustrator contributing to such magazines as The Graphic, Illustrated London News and the Radio Times. He also produced posters for theatrical productions and illustrated books. From 1913 he exhibited his paintings at the Royal Academy, a favourite theme being circus performers. During the First World War he worked with the Admiralty developing dazzle camouflage for ships. Works by him are in the collection of the Imperial War Museum, Tate Gallery and other public collections.

Pierre Andre de Suffren de Saint Tropez (1729-1788) was a famous vice-admiral who fought in the War of the Austrian Succession, the Seven Years' War and the American Revolutionary War.

Height: 28.00cm (11.02 inches)
Width: 22.00cm (8.66 inches)

Condition
Good
Date
Circa 1930
Price
£250.00
Call Dealer
Email Dealer
View other items from Sarah Colegrave