Sir Joshua Reynolds P.R.A. 1723 (Plympton) – 1792 (London)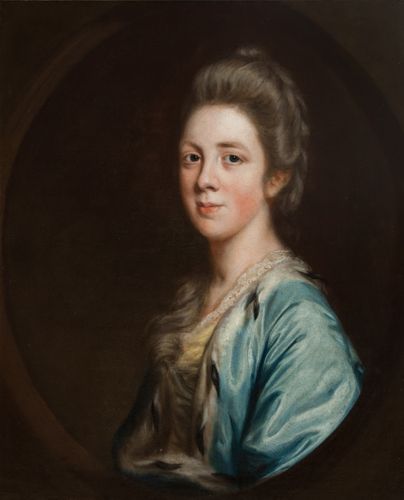 Description
Mrs. Letitia Sparrow (nee Popham) 1746-1838
painted in 1766
Oil on canvas. In original carved and gilded wood frame

The sitter is painted half-length, in a trompe l'oeil oval, wearing a blue gown trimmed with ermine over a chemise with a lace collar.

Reynolds' pocket books record five appointments in May 1766 for sittings with Mrs. Sparrow for this portrait. They took place on 14th May (at nine o'clock) 15th (at 3) 16th, 17th and 19th (all at 9). A payment of 35 guineas is recorded in the ledger on 6th June 1767. This accords with the price Reynolds was charging for portraits of this size as noted in the front of a pocket book for 1764.

Another of her family appears to have been painted by Reynolds the previous year. There is an appointment with a Mrs. Popham recorded for May 1765.

Letitia Popham was the only daughter of Thomas Popham of Bagborough House, West Bagborough, Somerset and his wife Sara. This was a branch of the Popham family who had long been wealthy West Country landowners. The family's apogee was the appointment of Sir John Popham as Lord Chief Justice of England in 1592, a role in which he served under both Queen Elizabeth and King James.

Letitia married James Sparrow (1742-1804) sole surviving son of Francis Sparrow of Flax Bourton, Somerset, and his wife Sarah Smith of London whom he had married in 1730. James and Letitia had two sons and eight daughters. She died in 1838 aged 92 and is buried at Long Ashton.

An inscription on the back of the lining canvas reads: "Loetitia Popham wife of James Sparrow Esq. of Flaxbourton, Somerset".
There is an old label at the bottom of the back of the frame which reads: "Laetitia Popham sister of Alexander m. James Sparrow of Flaxbourton".

Provenance
By descent in the family of the sitter.

Literature
• David Mannings, Sir Joshua Reynolds, a complete catalogue of his paintings.
Vol.1. No. 1656, page 421.
• Leslie & Taylor, Life and times of Sir Joshua Reynolds. Vol.1, Chap. IV, page 266.

Height: 29.50inch (74.93 cm)
Width: 24.00inch (60.96 cm)

Condition
Very good
Date
1766
Price
£32,000.00
Call Dealer
Email Dealer
View other items from Strachan Fine Art Ltd.