Shakespere's [sic] Seven Ages [of Man], English Print on Cotton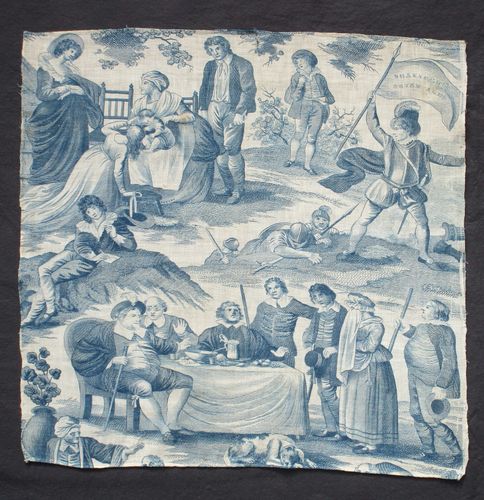 Description
English, printed by John Slack, Salford, Lancashire, ca. 1805.
Roller-printed cotton plain weave representing: The Infant, The School-Boy, The Lover, The Soldier, The Justine [sic] and two more (Slipper'd Pantaloon and Dotage), which are both ,missing from this fragment.
An identical, but slightly larger, piece is in the Philadelphia Museum of Art, published in Dilys E. Blum, The Fine Art of Textiles. The Collections of the Philadelphia Museum of Art. Philadelphia 1997, p. 34, Plate 46.
Height: 64.00cm (25.20 inches)
Width: 66.00cm (25.98 inches)

Condition
Fragment in very good condition, with one small tear at the top end
Date
Circa 1805
Price
£350.00
Call Dealer
Email Dealer
View other items from Legge Carpets Ltd