Samuel Drummond A.R.A. 1765 or 1770 (London) – 1844 (London)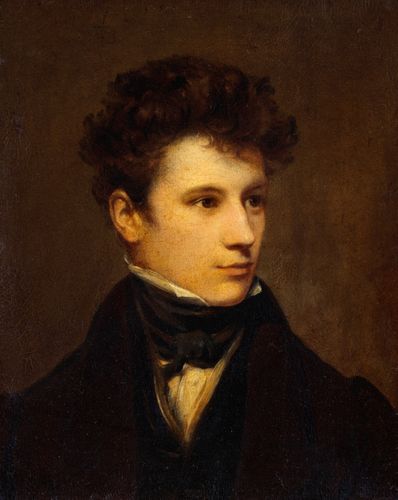 Description
Major Charles John Richardson, in the service of the East India Company.
Oil on artist's board.
Inscribed on reverse.

Major Charles John Richardson was the 4th son of Francis Richardson of the Madras Civil Service and the Rt. Hon. Lady Elizabeth Richardson, the youngest daughter of the Earl of Winterton, whom he had married in 1798. Major Richardson did not marry and under his will made on 10th February 1857 the principal beneficiaries were his siblings. The will was proved on 17th March 1857.

From the age of about 13 Samuel Drummond had been apprenticed to the sea service, working the Baltic trade for 6 or 7 years. In 1791 he entered the Royal Academy Schools but seems to have been largely self-taught. He submitted his first works to the RA exhibition in 1791 and exhibited there for the rest of his life. At first a painter of marine subjects, he began painting portraits to provide a steady income. His work is today rather scarce.

He had a facility for portraiture and worked quickly. Based in Soho, at the heart of the literary and artistic capital, he established a good reputation and painted many prominent people.

Prof. Geoffrey Quilley, in the DNB, writes that "His background and manner appear to have impeded his progress in the art establishment." When he applied to become an Associate of the Academy in 1807, John Constable said he had "such low habits and notions that he seemed unfit to be associated with men of rank". He was nevertheless elected Associate in 1808. The truth may be that, because Drummond had ambitions to be a history painter, he was involving himself in the artistic politics of his day. History painters regarded their work as the highest form of art. At the same time they tended to be jealous of the commercial success of the portrait painters. Drummond had the ability to achieve what he wanted and had some success as a painter of naval historical subjects. Nevertheless, his greatest talent was probably for portraiture.

Provenance:
From the collection of the late Paul F. Walter, New York.

Height: 23.00inch (58.42 cm)
Width: 18.00inch (45.72 cm)

Condition
Fair for its age. It has been surface cleaned and the paint appears undamaged under earlier varnish. Paint surface slightly uneven.
Price
£6,800.00
Call Dealer
Email Dealer
View other items from Strachan Fine Art Ltd.