ROBERT FAGAN 1761 (London) – 1816 (Rome)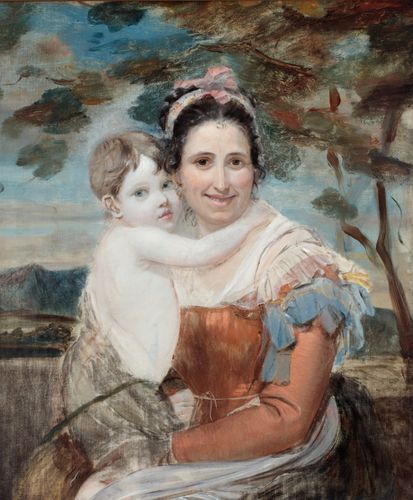 Description
This charming unfinished portrait depicts the artist's daughter Esther Maria (1792-1859) known as Estina, held by her nurse in an Italian landscape.
Painted c. 1794-5. Oil on canvas.
Robert Fagan's parents came to London from Cork and his father had a flourishing bakery business in Long Acre, where Robert was most likely born. This was at the centre of the country's artistic and cultural community. Reputedly a pupil of Bartolozzi, he was admitted to the Royal Academy Schools in 1781, though in the same year, with his fellow student Charles Grignion, he also went to Rome. He returned to London, presumably because of his father's illness, but by 1784 he was back in Rome, where he soon began to deal in pictures and to paint portraits, in the neo-classical style, of fashionable English visitors. He also made copies of old masters. Fagan cultivated some of the most influential figures in the English expatriate community in Rome. He also collaborated with Thomas Jenkins, another impecunious artist, British but Roman-born, who had built up a successful business as an art dealer and banker to the "milords". Fagan also began digging in search of classical antiquities, much in demand by collectors in and outside Italy.

On 23 April 1790 he married Anna Maria Aloisa Rosa Ferri (1773–1800), the daughter of an employee of the powerful Cardinal Rezzonico. Their daughter Estina was born in 1792.

The French invasion of Italy in 1796 and Napoleon's intention of confiscating works of art caused panic among Roman princes. Fagan bought two landscapes by Claude Lorrain at bargain prices from Prince Altieri and with Charles Grignion smuggled them out of Rome. For a while the pictures were owned by William Beckford; they are now at Anglesey Abbey near Cambridge. Fagan managed to return to Rome, where he set about excavating at Tor Boaccina and elsewhere—only to have many of his treasures seized by the French. He fled to Sicily.

Some years later, rich young William Baker, heir to Bayfordbury in Hertfordshire, fell in love with Estina. Having failed to prevent the marriage, Baker's father persuaded the foreign secretary, George Canning, to appoint Fagan consul-general for Sicily and Malta, a post for which he had for long been pestering Nelson and Sir William Hamilton; this was confirmed on 7 June 1809. On 2 August 1809, at Lord Amherst's house in Palermo, Estina then aged 17 married William Baker (1778-1813) of Bayfordbury. They had two sons (one of whom died in infancy) and a daughter. William died in 1813 and in December 1820 the widowed Estina Baker married Francis Acton, nephew (and brother-in-law) of Sir John Acton, prime minister of Naples, by whom she had three sons.
Height: 34.75inch (88.27 cm)
Width: 29.25inch (74.30 cm)

Condition
The background and some of the costume detail was never finished by the artist and remains as he left it. The condition is very good.
Date
Circa 1794
Call Dealer
Email Dealer
View other items from Strachan Fine Art Ltd.