Raymond Hughes - Costume Design - watercolour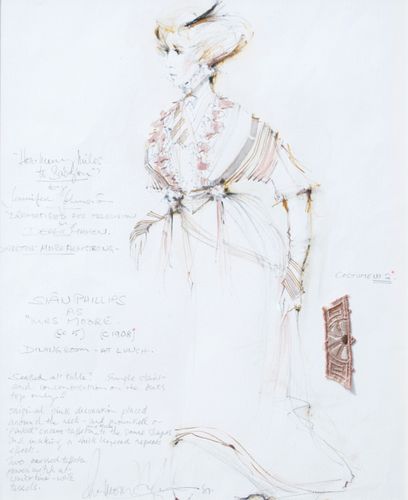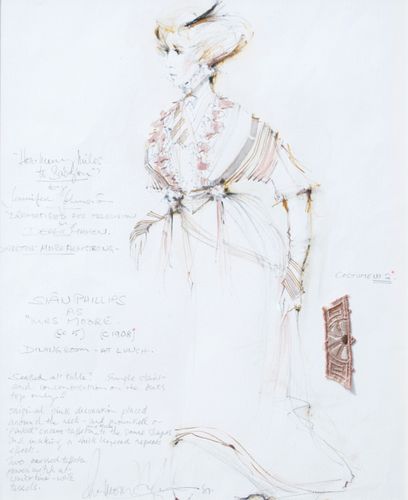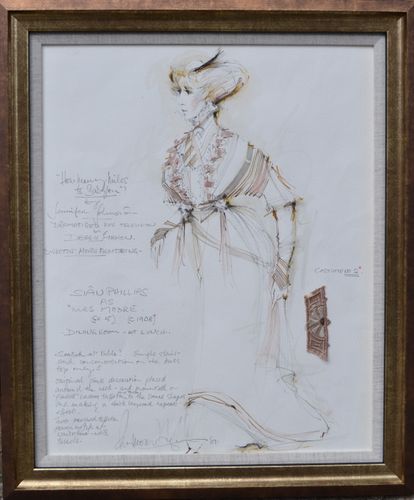 Description
RAYMOND HUGHES
(d. 2015)

Costume Design for Sian Phillips as Mrs Moore in How Many Miles to Babylon.

Signed, dated '81 and extensively inscribed:
"How Many Miles to Babylon?" by Jennifer Johnston. Dramatised for Television by Derek Mahon. Director: Moira Armstrong. Sian Phillips as Mrs Moore (Sc 5) (c.1908). Dining Room – At Lunch. Seated at table? Simple skirt and concentrate on the dress top only!!! Original pink decoration placed around the neck – and mounted on "pinked" cream taffeta and tulle to the same shapes and matching a thick layered repeat effect. Two pressed taffeta flower motifs at waistline – with tassels.
Pen and ink, watercolour and bodycolour, over traces of pencil. Fabric sample attached.

49 by 39 cm., 19 ¼ by 15 ½ in.
(frame size 59 by 49.5 cm., 23 ¼ by 19 ½ in.)

Hughes was born in Llanfairfechan, Wales. Initially he worked as a draughtsman in the local quarry before being encouraged to study the Liverpool College of Art. In the Spring of 1966 he join the BBC as a costume designer. He went on to become one of the chief costume designers working for the BBC and independent productions in the 1970s and 1980s. The many productions for which he contributed designs include: Doctor Who (1977), Prince Regent (1979), King Lear (1982), Young Sherlock Holmes (1985) and The Boy Who Would be King (2004). In 1978 he won an Emmy for "Outstanding Achievements in Costume Design for a Drama" for his designs for The Pallisers (1974) and in 1985 was nominated for a BAFTA for his designs for The Far Pavilions.

The present work is a costume design for Sian Phillips in the role of Mrs Alicia Moore in the 1982 BBC Playhouse production of How Many Miles to Babylon?

Height: 49.00cm (19.29 inches)
Width: 39.00cm (15.35 inches)

Condition
Good
Date
1981
Price
£980.00
Call Dealer
Email Dealer
View other items from Sarah Colegrave