Pair of Regency Rosewood and Brass Gout Stools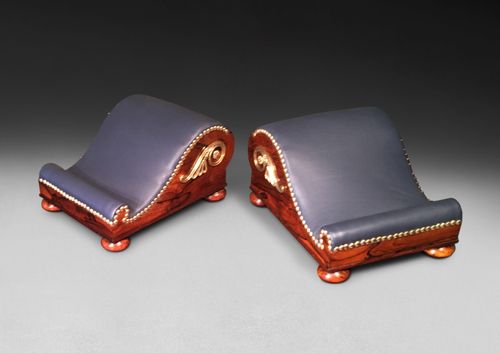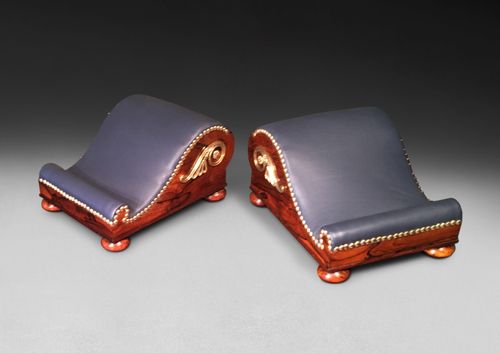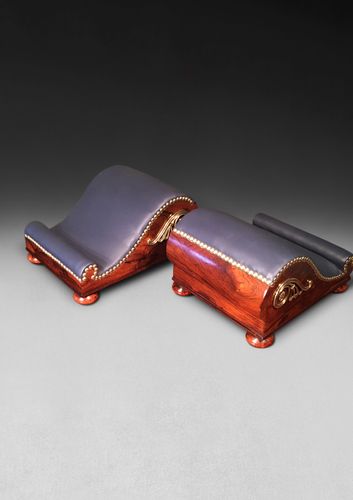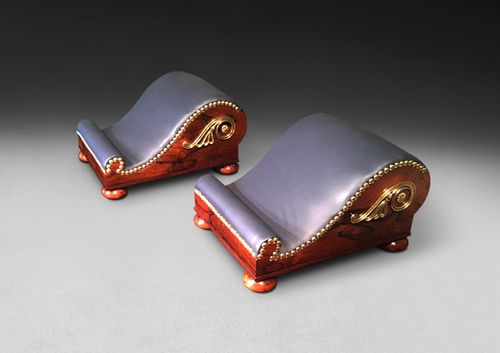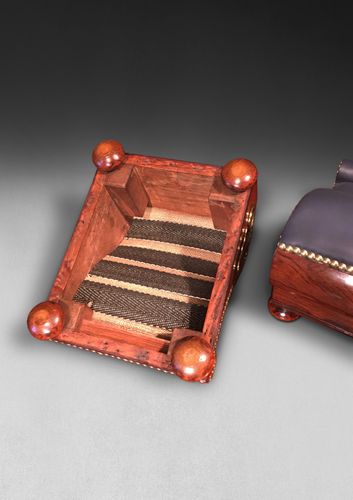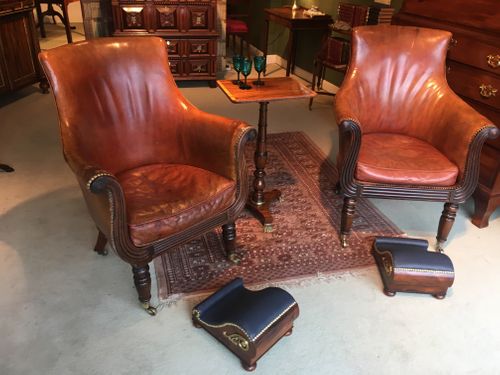 Description
Pair of Regency Rosewood and Brass Gout Stools of scrolling form with leather upholstered foot rests, scrolling brass appliques and raised on bun feet.

Circa. 1820

H: 7", 18 cms, W: 10", 25.5 cms, D:13.5 ", 34.5 cms.

See "Ackermann's Regency Furniture and Interiors" Plate 58 Footstools for this scrolling example and described in the 1813 text: "This article possesses advantages that are not immediately seen on the first inspection, independent of the chasteness of the design: the angle of inclination given to the surface, receives the foot in its natural and most easy position; while the smaller part of the scroll serves as a stay for the heel and prevents the whole from being propelled forward; and in reversing the situation of the stool, by having the smaller scroll from you, it answers the purpose of a jambier or what is commonly called a comfort and ease. They have been finished for drawing rooms in rose-wood with or-molu ornaments, and carved and gilt trusses and feet; also in bronze and gold, and in mat and burnished gold, covered with plain and painted velvets. The Chinese and Gothic are designs after the same plan."
The term "gout" was initially used by Randolphus of Bocking, around 1200 AD. It is derived from the Latin word gutta, meaning "a drop" (of liquid). Gout has been known since antiquity. Historically, it was referred to as "the king of diseases and the disease of kings" or "rich man's disease". The first documentation of the disease is from Egypt in 2,600 BC in a description of arthritis of the big toe. Greek physician Hippocrates around 400 BC commented on it noting its absence in eunuchs and premenopausal women. In 1683, Thomas Sydenham, an English physician, described its occurrence in the early hours of the morning and its predilection for older males: "Gouty patients are, generally, either old men or men who have so worn themselves out in youth as to have brought on a premature old age—of such dissolute habits none being more common than the premature and excessive indulgence in venery and the like exhausting passions.
The links to alcohol and rich food have often been written about and throughout the 18th and 19th. centuries Gout was predominantly linked with a high lifestyle and who better to personify this than The Prince Regent and all the flamboyance of the Regency Period so well displayed in this pair of footstools.
I refer to the Annals Of Rheumatic Diseases and an article published in 1962, "GOUT IN THE TIME AND PERSON OF GEORGE IV:
A CASE HISTORY* by E. G. L. BYWATERS
Our hero, George Augustus Frederick, who was born in 1762 and died in 1830 at the age of 68, was fortunate enough from the historian's viewpoint to live in a period when everyone wrote memoirs and diaries and interminable letters: with no telephone or television, what else was there to do? From the historical viewpoint, no patient has been so fully, lavishly, and fiendishly documented: from the scientific viewpoint he lived through an age which saw a revolution in thought about medicine and chemistry.
The First Attack: Of prime interest is a print found in New York, which antedates any mention of gout; it depicts the after-results of a party at Oatlands, the
Duke of York's seat at Weybridge in Surrey, on November 13, 1811, where the Prince Regent (as he now was, since his father's second loss of sanity)
suffered an accident and hurt his ankle. This was no ordinary sprain, however, although it was regarded so at the time. Red and exquisitely painful, it kept him in bed on 1,200 drops of laudanum a day for a fortnight. The physician, an obvious Scotsman (doctors being, even at that time, one of Scotland's major exports) is probably Sir Walter Farquhar. He told Lady Melbourne, on November 21, 1811, that the Regent had "broke a tendon in his foot with such violence that he fell and his leg instantly swelled up to the knee as large as a man's body, that the inflammation is considerable"


Height: 7.00inch (17.78 cm)
Width: 10.00inch (25.40 cm)
Depth: 13.50inch (34.29 cm)

Condition
Good. Marks and wear consistent with age and use. Full condition report available upon request.
Date
Circa 1820
Sold
Call Dealer
Email Dealer
View other items from W.R. Harvey & Co. (Antiques) Ltd