Lord Methuen - BBC Symphony Orchestra - drawing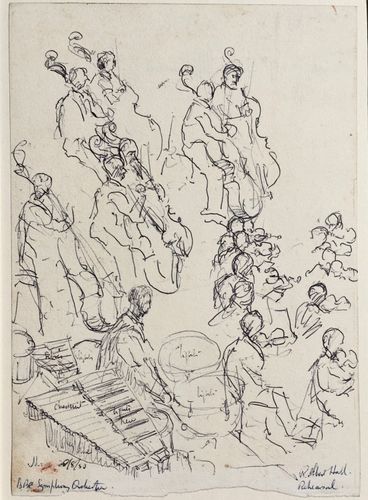 Description
PAUL AYSHFORD METHUEN, 4th LORD METHUEN, RA
(1886-1974)

BBC Symphony Orchestra, Royal Albert Hall, Rehearsal

Signed with initial, inscribed with title and dated: 28.8.50
Ink
Unframed, in conservation mount

25.5 by 18 cm., 10 by 7 in.
(mount size 41 by 33 cm., 16 by 13 in.)

Paul Methuen was born at Corsham, Wiltshire and educated at Eton and New College, Oxford, where he studied zoology and engineering. Before World War I he spent four years working at the Transvall Museum in Pretoria but refused a chair in zoology at a South African university in order to serve in the war. He joined the Royal Wiltshire Yeomanry and then the Scots Guards. He succeeded his father in 1932 and then devoted himself to his family house, Corsham Court, restoring the building and expanding the art collection. He also pursued his interest in painting having attended art classes given by Walter Sickert in 1927. At the outbreak of World War II he joined up again. When the Bath School of Art was destroyed by enemy action in 1942 he offered them Corsham Court as their new home. They remained there until 1972. In 1944 Methuen was moved to the Procurement and Fine Art branch, set up to protect works of art during the invasion of the continent. He recorded his experiences in Normandy Diary. From 1939 to 1971 he was president of the Royal West of England Academy in Bristol, he became a Royal Academician in 1959. He was a trustee of both the National Gallery and the Tate Gallery.

The BBC Symphony Orchestra was founded in 1930 by Lord Reith and the conductor Sir Thomas Beecham. Adrian Boult served as first director of music and Henry Wood the founding conductor.

Height: 2.50cm (0.98 inches)
Width: 18.00cm (7.09 inches)

Condition
Good
Date
1950
Sold
Call Dealer
Email Dealer
View other items from Sarah Colegrave