Joseph Teal Cooper 1682 (Burford)-1743 (Lambeth)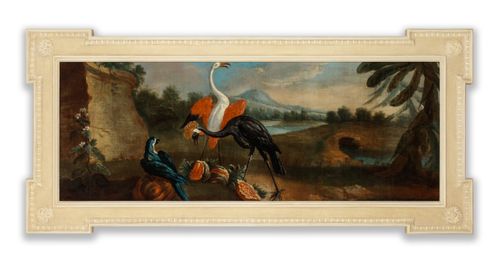 Description
An extensive river landscape with a mountain beyond; in the foreground exotic birds eating from open watermelons
An overdoor panel, oil on canvas.
Painted circa 1720-25
In a reproduction painted William Kent style frame

Joseph Teal Cooper was a still life painter who included animals and birds in some of his compositions. He was mentioned in the notebooks of George Vertue (iii, 122) as "very skilful in painting fruit and flowers". Two of his paintings, "Cocks and hens" and "Eagle and lamb" were listed in a manuscript catalogue of 1735 of the pictures at Hursley Park, Hampshire which was built (possibly by John James and probably to the designs of Sir Thomas Hewitt) for William Heathcote between 1721 and 1724.

Cooper was probably the earliest English painter of still life. His work shows the influence of Italian still life painters from Rome and Naples.

Literature:
George Vertue, notebooks, Walpole Society XXII (1933-34)
Ellis Waterhouse, Dictionary of British 18th Century Painters in oils and crayons, 1981, p. 86 and colour plate p. 77.

Height: 19.50inch (49.53 cm)
Width: 55.00inch (139.70 cm)

Condition
Good, cleaned and lined
Date
Circa 1720
Price
£12,500.00
Call Dealer
Email Dealer
View other items from Strachan Fine Art Ltd.