John Doyle, PRWS - Lake Garda - watercolour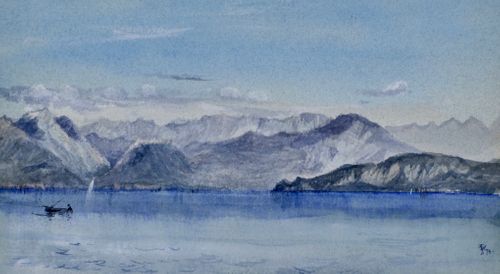 Description
JOHN DOYLE, PPRWS
(Born 1928)

Lake Garda

Signed with initials and dated '78
Watercolour heightened with white, unframed

10.5 by 18.5 cm., 4 ¼ by 7 ¼ in.
(mount size 24 by 32 cm.; 9 ½ by 12 ½ in.)

Doyle was born in London and lives in Ashford Kent. He studied at Maidstone Art School and at St Martin's Life Classes, working with John Ward, RA. He exhibits in London and in the provinces and had several one-man shows with Spink. He was elected ARWS in 1977 and RWS in 1983. He was president of the Royal Watercolour Society 1996-2000).

Height: 10.50cm (4.13 inches)
Width: 18.50cm (7.28 inches)

Condition
Good
Date
1978
Sold
Call Dealer
Email Dealer
View other items from Sarah Colegrave