Johannes Kip Engraving – Hampton Court, Herefordshire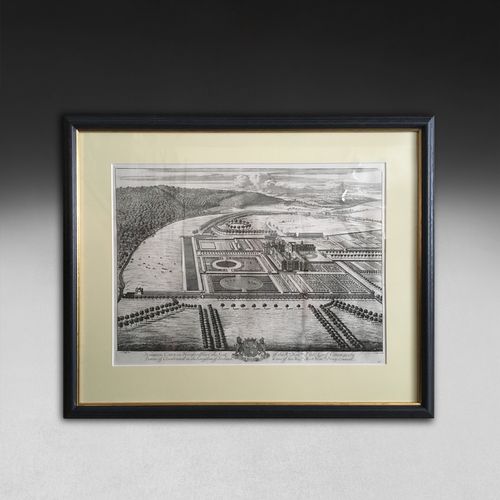 Description
The Hampton Court Estate has a fascinating and chequered history dating back to the 15th Century. The estate was originally formed by the merging of the manors of Hampton Richard and Hampton Mappenor.

Henry IV began building on the site before giving it to Sir Rowland Lenthall at the time of his marriage to Margaret Fitzalan, daughter of the Earl of Arundel and a cousin of the King. Lenthall built a quadrangular manor house in 1427, twelve years after his knighthood at the battle of Agincourt. In 1434 he was granted a licence to crenellate the house by Henry VI.

Sir Rowland was succeeded by his daughter who married the Baron of Burford and it was their grandson who sold Hampton Court to Sir Humphrey Coningsby in 1510. Hampton Court remained in the Coningsby family, a prominent noble Herefordshire family, until the early 19th Century when the estate was purchased by Richard Arkwright, the son of the famous inventor.

Richard Arkwright's son, John, then commissioned the remodelling of the house in the 1830's and 40's, the work being designed and carried out by Charles Hanbury Tracy, later Lord Sudeley. The Arkwrights lived at Hampton Court until 1912.

In the 20th Century it passed through various hands and much of the original furniture was sold. It was rescued in the 1990s by the American millionaire, Robert Van Kampen, who refurnished the interior according to his interpretation of how an English castle should look.

Johannes Kip (1653 - 1722) was a Dutch draughtsman, engraver, and print dealer who was active in England after producing works for the court of William of Orange in Amsterdam. Following the Glorious Revolution of 1688, Kip accompanied the Court to England and settled in Westminster where he conducted a thriving print selling business from his house in St. John's Street. He also worked for various London publishers producing engravings, largely for book illustrations. His most important works were the execution of the illustrations for Britannia Illustrata, 1708; The Ancient and Present State of Gloucestershire, 1712, and Le Nouveau Theatre de la Grande Bretagne, 1715.

H:21" 53.5cms, W: 25.5" 65cms, D: 1" 2.5cms.


Height: 21.00inch (53.34 cm)
Width: 25.50inch (64.77 cm)
Depth: 1.00inch (2.54 cm)

Condition
Good. Marks and wear consistent with age and use. Full condition report available upon request.
Date
Circa 1700
Sold
Call Dealer
Email Dealer
View other items from W.R. Harvey & Co. (Antiques) Ltd