James Smith (Nottinghamshire portrait painter, active 1773-1784)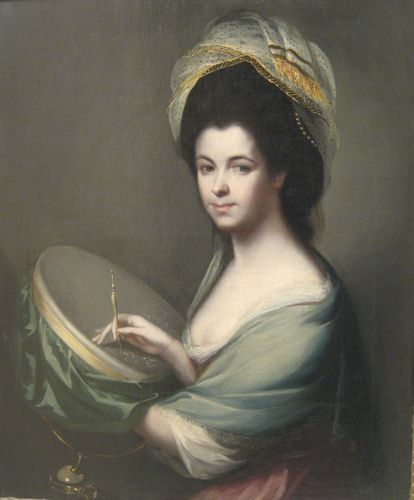 Description
Portrait of Anne-Katherine Dashwood (died 1834) wife of Major (John) Cartwright the political reformer (1740-1824) probably painted in the year of their marriage in 1780.
Oil on canvas in the original carved wood frame.
The identification of the sitter appears on an old plaque once attached to the front of the original frame but now preserved on the back of the present one. There is also an old catalogue entry pasted to the back of the stretcher.

Anne-Katherine Dashwood was the eldest daughter of Samuel Dashwood Esq. of Well Vale Hall, Alford in Lincolnshire. She had thus grown up in a romantic 17th century house which had been altered by her maternal grandfather James Bateman in the 1730s.

In 1780 she married Major John Cartwright (1740-1824) and moved to Nottinghamshire. In 1781 he purchased at public auction his family estate at Marnham. He was the son of a Nottinghamshire gentleman and the brother of the Rev. Edmund Cartwright, a poet and mathematician who invented the steam-powered loom. The couple had no children but in 1786 they adopted his niece Frances Cartwright (1780-1863) who later became his first biographer. She wrote of John Cartwright's marriage to Anne-Katherine that such was the goodness of his natural disposition that the union was long and always harmonious. His wife must therefore have been a great support in his tempestuous political life.

John Cartwright had attended Newark Grammar School and Heath Academy, Doncaster. Commissioned in the Navy in 1758, he served extensively and was promoted fast until ill-health forced him to return to England to convalesce in 1770. It was during this period that he read voraciously and developed his interest in politics. In 1774 he published an essay on America which was in favour of greater democracy and control of taxation. The following year he refused a commission to serve in American waters and so ended his career in the Navy. He did, however, accept an appointment as major in the Nottinghamshire Militia, which led to his being called Major Cartwright for the rest of his life. He now continued his political writing in earnest, in 1776 publishing a book arguing for manhood suffrage, secret ballots, annual elections and equal electoral districts. There followed a work in which he added to these the case for the abolition of property qualifications for parliamentary candidates and the payment of members of parliament.

When he married in 1780 this was also the year in which he founded the Society for Constitutional Information. Other members included Horne Tooke, John Thelwall, Granville Sharp, Josiah Wedgwood, Joseph Gales and William Smith. The Society was an organisation of social reformers, many drawn from the rational dissenting community, dedicated to publishing political tracts aimed at educating fellow citizens on their lost ancient liberties. It promoted the work of Tom Paine and other campaigners for parliamentary reform. Most members were also opposed to the slave trade. Later in 1780 John Cartwright failed in his attempt to be elected to the House of Commons for Nottinghamshire. He lived, however, in a country with a long established tradition of political pamphleteering and at a time when democratic debate was reaching a crescendo, as was the anxiety of the Government about public disorder. He spent the rest of his life tirelessly campaigning for the cause of Parliamentary reform, including trying to bring round the merchant and landed middle classes to accept the case for change. He published over 80 works between 1774 and 1824.

In 1788 John Cartwright purchased Brothertoft Farm in Lincolnshire and shortly afterwards he sold his Nottinghamshire estate. He lived at Brothertoft Hall, which he extended, until about 1803 or 1805 when, because of his political activities, he moved nearer to London. He died in 1824. His wife survived him by 10 years and was buried beside him in St. Mary's Church, Finchley.

Provenance:
With Thomas Agnew & Sons, Old Bond Street, London: stock no. 37873.

Literature:
The Life and Correspondence of Major Cartwright, edited by his niece J. D. Cartwright. 1826.

Height: 30.00inch (76.20 cm)
Width: 25.00inch (63.50 cm)

Condition
Very good
Date
1780
Price
£8,750.00
Call Dealer
Email Dealer
View other items from Strachan Fine Art Ltd.