"Ionicus" - Mr Punch - How to Grow Tobacco - ink drawing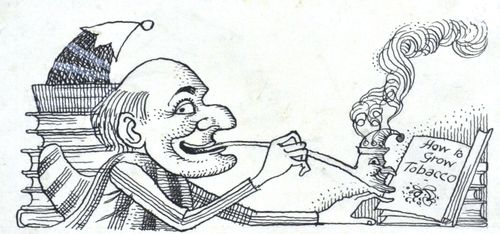 Description
"IONICUS" JOSHUA CHARLES ARMITAGE
(1913-1998)

Mr Punch – How to Grow Tobacco

Pen and ink heightened with white, unframed

5.5 by 10 cm., 2 ¼ by 4 in.
(mount size 25.5 by 25.5 cm., 10 by 10 in.)

Joshua Charles Armitage was a popular 20th century illustrator and cartoonist working for many magazine and producing numerous book illustrations and cover designs. He was born in Hoylake, Cheshire and studied at Liverpool School of Art. He took the pen name Ionicus for his first cartoon, which was published in Punch, 24 March 1944. Over the following 40 years he contributed 358 drawings to the magazine. As a book illustrator he work on over 50 Wodehouse titles.

Height: 5.50cm (2.17 inches)
Width: 10.00cm (3.94 inches)

Condition
Good
Date
Circa 1950
Price
£140.00
Call Dealer
Email Dealer
View other items from Sarah Colegrave