Henri Courselles-Dumont 1856-1918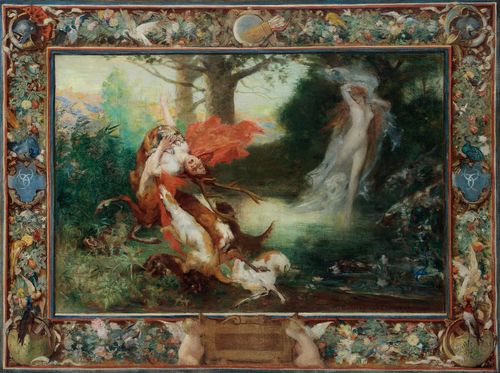 Description
The death of Actaeon
Oil on canvas, with an elaborate Symbolist painted border.
Signed.

A French painter of mythological subjects, Henri Courselles-Dumont studied in Paris under Elie Delaunay, Raphael Collin and Luc-Olivier Merson at the Ecole des Beaux-Arts in Paris. He painted one of the frescoes at the Pantheon. In some of his compositions, as here, he featured a nude figure with a landscape painted in Impressionist tones.

He exhibited at the Salon de la Societe des Artistes Francais. His work is included in the collections of a number of French museums.

Height: 25.00inch (63.50 cm)
Width: 33.00inch (83.82 cm)

Condition
Very good
Price
£8,750.00
Call Dealer
Email Dealer
View other items from Strachan Fine Art Ltd.