George III Period Long Engraving "A Long Minuet as Danced at Bath" by Henry William Bunbury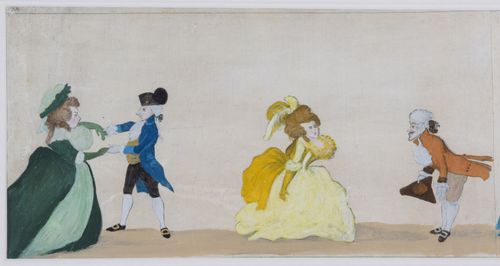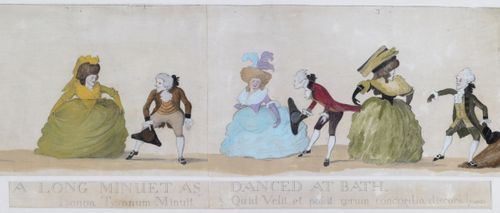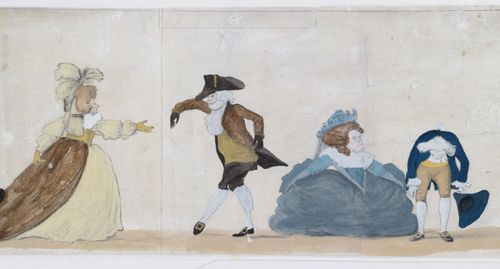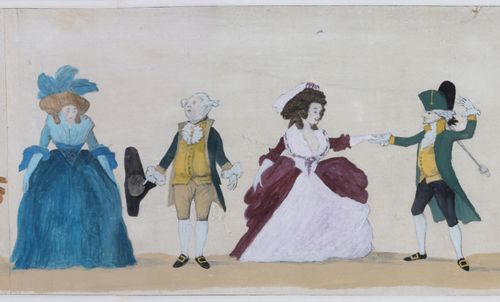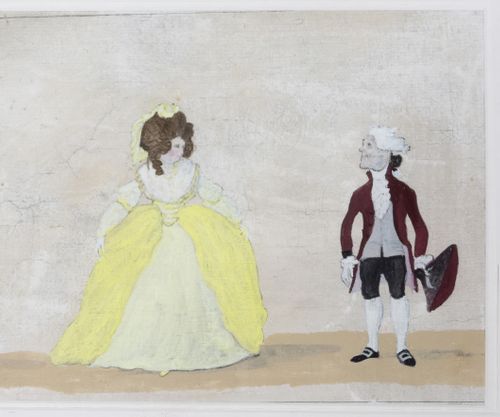 Description
Circa 1787

A truly rare George III Period Long Engraving, "A Long Minuet as Danced at Bath, Longa Tysonum Minuit velit & possit rerum Concordia Discors. Horace" by Henry William Bunbury (1750 – 1811) published by William Dickinson in 1787.

This is Bunbury's most renowned and successful design with recent research revealing the figures are based on actual prominent people from the city of Bath at that time. They include the master of ceremonies, Richard Tyson, the ex-Prime Minister Lord North, his wife and daughter, the Mayor and Mayoress of Bath, some French financiers, Bunbury's wife, Catherine (nee Horneck, a lady in waiting to the Queen) and the artist himself seemingly bowing to his audience.

H: 13" / 32.7cm, W: 88.4" / 224.5cm, D: 1.25" / 3cm

Henry William Bunbury (1750 – 7 May 1811) was an English caricaturist. The second son of Sir William Bunbury, 5th Baronet (see Bunbury baronets), of Mildenhall, Suffolk, he came of an old Norman family. He was educated at Westminster School and St Catharine's College, Cambridge, and soon showed a talent for drawing, especially for humorous subjects.

His more serious efforts were no great success, but his caricatures are as famous as those of his contemporaries Thomas Rowlandson and James Gillray, good examples being his Country Club (1788), Barber's Shop (1803) and A Long Story (1782). He was a popular character, and the friend of most of the notabilities of his day, whom he never offended by attempting political satire; his easy circumstances and social position (he was colonel of the West Suffolk Militia, and was appointed equerry to the Duke of York and Albany in 1787) allowed him leisure to practise his talents.

He married Catherine, eldest daughter of Kane William Horneck and his wife Hannah Muggles. Bunbury and Catherine's son Henry succeeded to the baronetcy.

William Dickinson (1746–1823) was an English mezzotint engraver. He was born in London. Early in life he began to engrave in mezzotint, mostly caricatures and portraits after Robert Edge Pine, and in 1767 he was awarded a premium by the Society of Arts. In 1773 he commenced publishing his own works, and in 1778 went into partnership with Thomas Watson, who engraved in both stipple and mezzotint, and who died in 1781.

Dickinson appears to have been still carrying on the business of a printseller in 1791 in London, but he later moved to Paris, where he continued to engrave, making prints for the new regime and then for Napoleon; in 1814 Thomas Lawrence and Benjamin West visited him in Paris, the latter trying to persuade him to come back to London to engrave his paintings. He died in the summer of 1823 and his death was noted in the Gentleman's Magazine in September of that year. One of his most famous engravings was of Henry William Bunbury's A Long Minuet as Danced at Bath, which he published in 1787 and which measured around seven feet (over two metres) in length.
Height: 32.70cm (12.87 inches)
Width: 224.50cm (88.39 inches)
Depth: 3.00cm (1.18 inches)

Condition
Good, Newly Framed and Mounted
Date
1780
Price
£7,000.00
Call Dealer
Email Dealer
View other items from W.R. Harvey & Co. (Antiques) Ltd