Francis Cotes R.A. 1726 (Strand, London) – 1770 (Richmond, Surrey)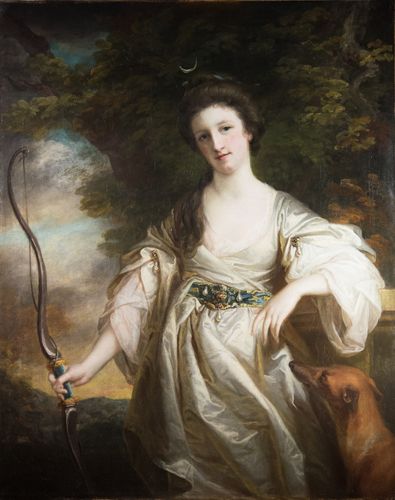 Description
Joyce Crowther, Lady Lake (1744-1834) as Diana
Painted circa 1767
Oil on canvas 49.60 x 39.76 ins, 126 x 101cm

Joyce Crowther, Lady Lake is painted three-quarter length, in a pale dress with a jewelled belt, holding a bow and with a hound by her side. She is standing in a wooded landscape. She was known as a great beauty and in the 1780s it was written that she charmed everyone by her elegance of language and extreme affability.

Joyce Crowther was the daughter of John Crowther of Bow. There is probably a pun in the bow she is holding because, in the related portraits of ladies in the character of Diana, the weapon is a spear. From 1750 John Crowther was joint owner of the Bow china manufactory until the death of his partner Weatherby in 1762 when he became the sole owner. The manufactory was on the Essex side of the River Lea, just above Bow Bridge. It had been established about 1744 by Edward Heylin and the Irish artist Thomas Frye who worked there until 1762 when ill health forced his retirement. Crowther went bankrupt in 1763 but seems to have continued the business shortly afterwards, although it dwindled and was sold in 1776.

In 1764 aged 20 Joyce married Sir James Winter Lake, 3rd baronet (1741-1807) of The Firs, Edmonton. Joyce bore Sir James 13 children. She died on 25 July 1834, aged 90, at Boulogne sur Mer.

Sir James was the eldest son of Sir Atwell Lake and Mary, the daughter of James Winter of Mile End. Sir James was admitted to Trinity College Cambridge, on 2 June 1760 where he studied classical languages. Cultured and with a lifelong interest in the arts he became a passionate collector, following in the footsteps of his father and grandfather. He was able to do this because of his great wealth derived from his succession of positions with the Hudson's Bay Company: as a member of the Committee (1761-82), then as Deputy Governor (1782-99) and finally as Governor (1799-1807).

A great part of his time must have been devoted to his collections. He was a Fellow of the Society of Antiquaries, although not an active one. After his death his library was sold by W. Stewart of Piccadilly on 7 March 1808 over 12 days and his collections of engraved prints, portraits and illustrated books by the same auctioneer on 31 March 1808 over 11 days.

Provenance:
Commissioned by Sir James Winter Lake who died in 1807
The dowager Lady Lake, the sitter, until her death in 1834
By descent in the Lake family until sold in 2018

Literature:
J. T. Smith, Nollekins and his Times and Memoirs of Contemporary Artists vol.1 page 161.

Height: 49.60inch (125.98 cm)
Width: 39.76inch (100.99 cm)

Condition
Very good, discoloured varnish layers have been removed and conservation work has been carried out.
Date
Circa 1767
Call Dealer
Email Dealer
View other items from Strachan Fine Art Ltd.