English Delftware blue dash charger of Queen Anne London early 18th century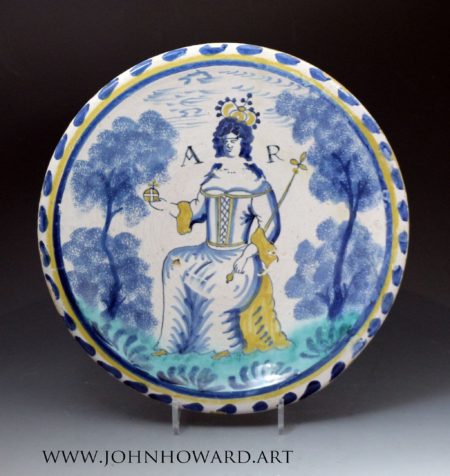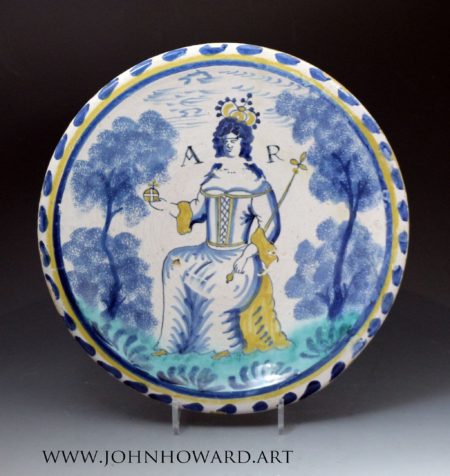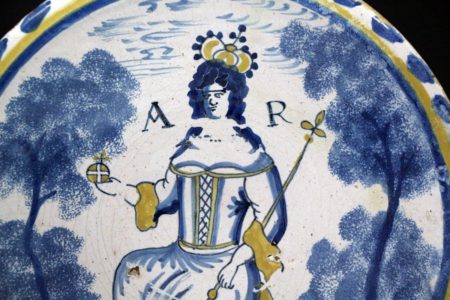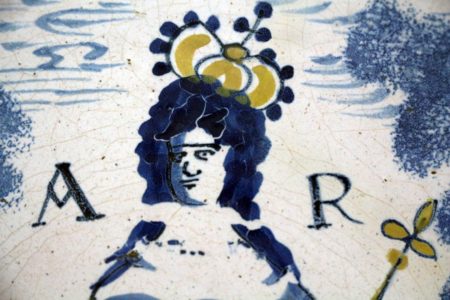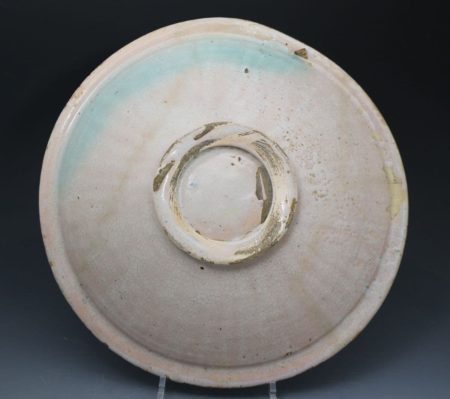 Description
Dated: 1702 London England

Delftware commemorative blue dash charger depicting Queen Anne seated between sponge decorated trees holding the orb and scepter. The head of the monarch is flanked by the capital letter AR.The dish is attributed to the Lambeth delftworks England.NOTES;Ref. Wikipedia;Anne (6 February 1665 – 1 August 1714)[a] was the Queen of England, Scotland, and Ireland between 8 March 1702 and 1 May 1707. On 1 May 1707, under the Acts of Union, two of her realms, the kingdoms of England and Scotland, united as a single sovereign state known as Great Britain.Anne was plagued by ill health throughout her life, and from her thirties, she grew increasingly ill and obese. Despite seventeen pregnancies by her husband, Prince George of Denmark, she died without surviving issue and was the last monarch of the House of Stuart. Under the Act of Settlement 1701, which excluded all Catholics, she was succeeded by her second cousin George I of the House of Hanover.

Diameter: 13.5 inches

Current Condition: Hairlines professionally and invisibly restored.

Provenance: Private Collection Surrey England

Literature: Page 80 Figure reference A.12 DELFTWARE by Michael Archer, the collection in the V & A Museum London.
Diameter: 13.50inch (34.29 cm)

Condition
Hairlines professionally and invisibly restored.
Date
Circa 1702
Price
£12,500.00
Call Dealer
Email Dealer
View other items from John Howard at Heritage