English delftware Adam and Eve Charger from Franks Pottery Bristol 18th century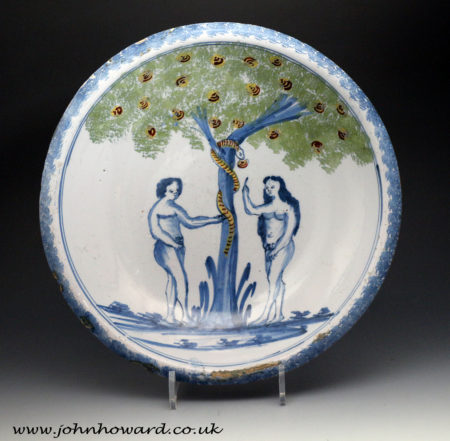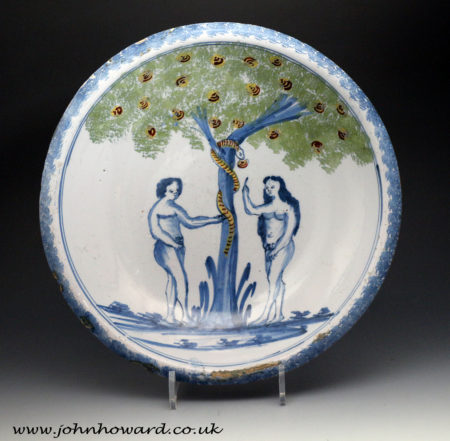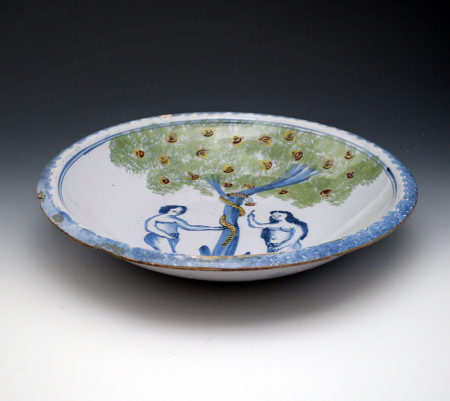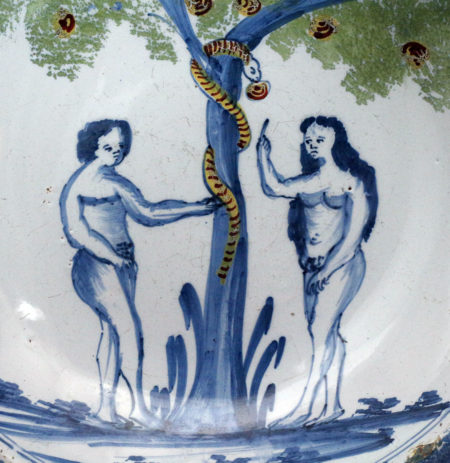 Description
Dated: 1730 Bristol

A Bristol Delftware charger of the Temptation of Adam and Eve in the Garden of Eden. The couple standing under the Tree of Knowledge around which the serpent is coiled proffering the forbidden fruit to Eve, she points at the apple proffered so temptingly. The blue edged charger decorated with space around the unfolding drama, which adds a clean and well-defined representation.The dish attributed to Frank's Delftworks, located at Redcliff Back Bristol England.NOTES;The Redcliffe Back delftware pottery in Bristol was founded by John Margerum in around 1705, but he was soon succeeded by Thomas Frank [aka Thomas Franks] (1706/7-1750) who took on numerous apprentices over the years including Joseph Flower in 1736. His son Richard Frank [aka Richard Franks] may have become manager c.1741 and was paying rates alone on the pottery by 1750, his father having presumably retired. Around 1757, the Swede Magnus Lundberg became a partner, and in 1770 he was documented as foreman to Mr. Richd. Franks and Son Potters. Thomas II worked alongside his father Richard from c.1766 until 1776 when the premises were vacated, and Richard Frank & Son moved their delftware business to Water Lane (i.e., Temple Back Pottery). There may also have been a second pottery in Temple Back producing delftware between 1756 and 1761 first under John Harwell and then under Richard Frank(s).

Diameter: 13 inches

Current Condition: Minor professional restoration at rim chip.

Provenance: Sothebys 1964.Sir Frederick Warner Collection

Literature: Page 85 figure reference A21 DELFTWARE The tin-glazed Earthenware of the British Isles, The catalog of the collection in the Victoria and Albert Museum London by Michael Archer.
Diameter: 13.00inch (33.02 cm)

Condition
Minor professional restoration at rim chip.
Date
Circa 1730
Price
£5,750.00
Call Dealer
Email Dealer
View other items from John Howard at Heritage