Ebonised Sycamore Jewellery Box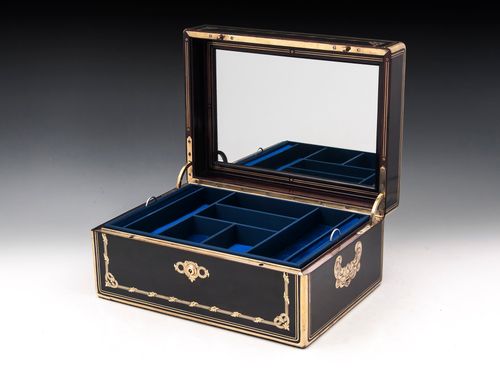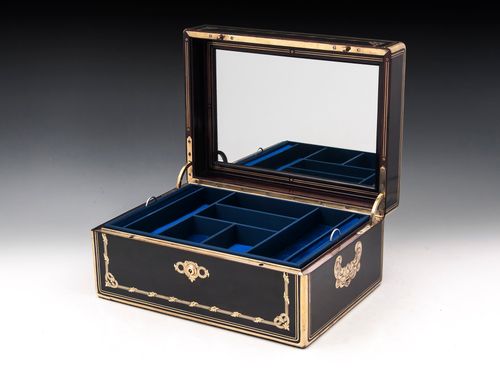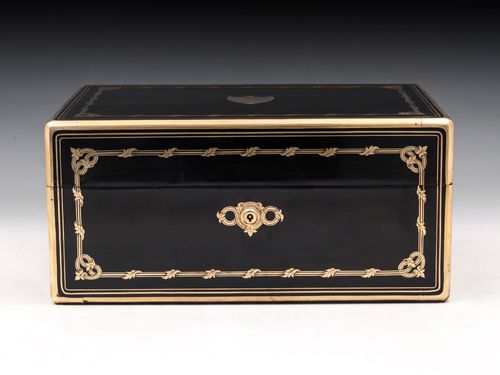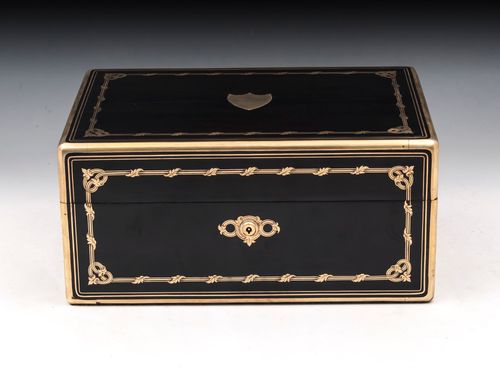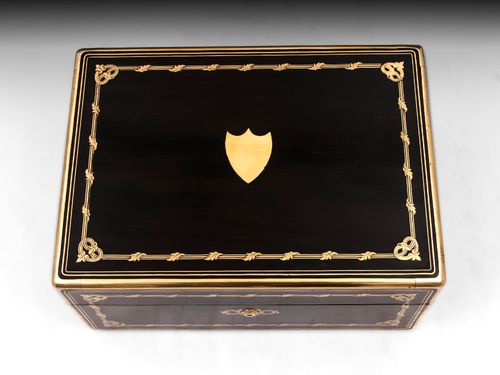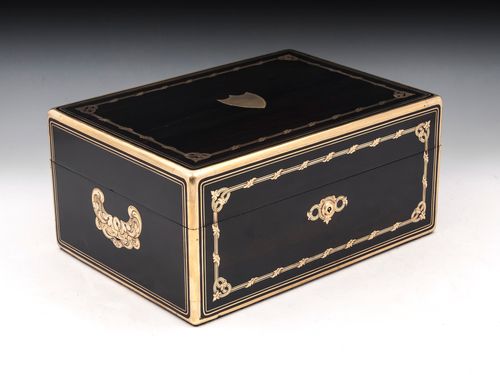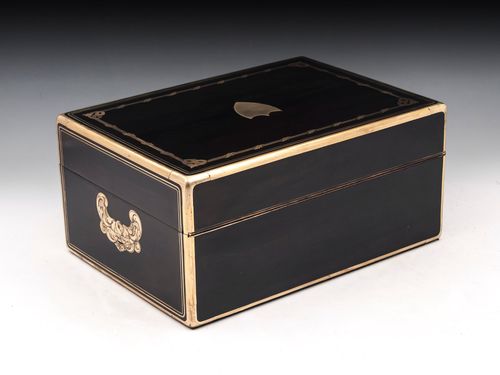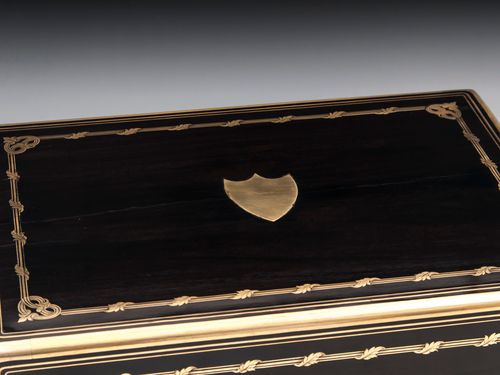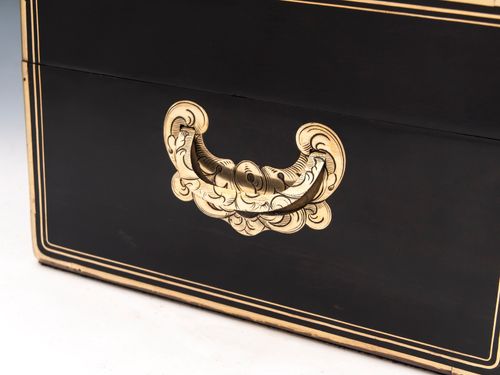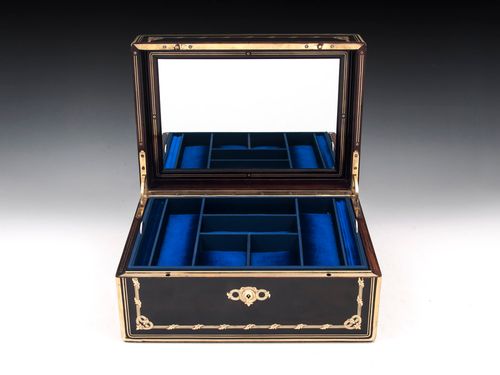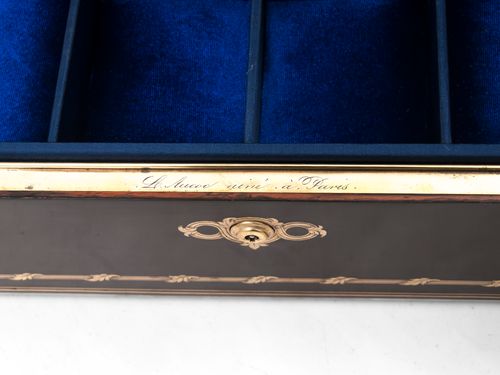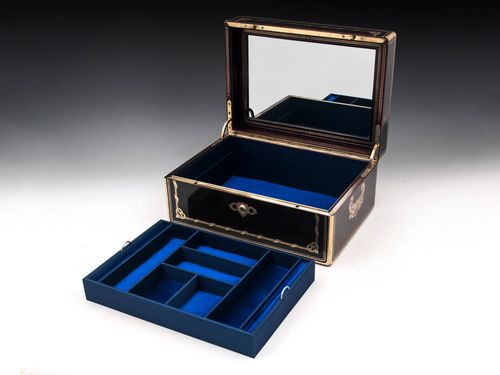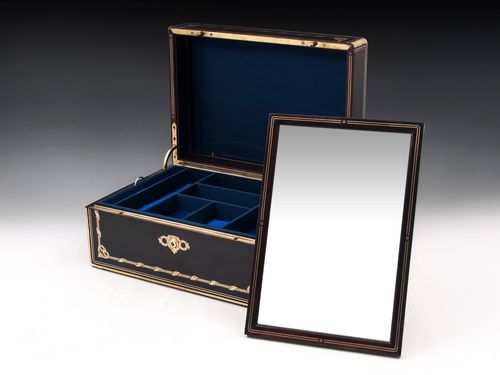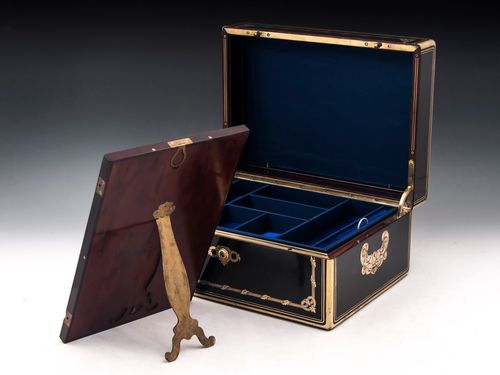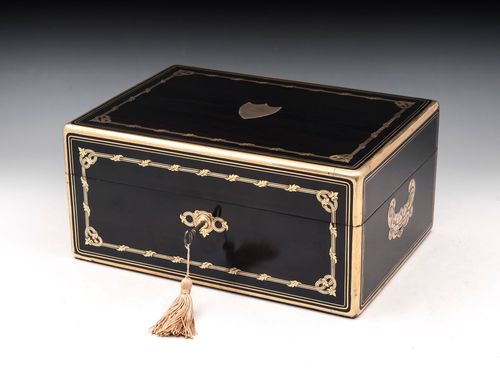 Description
Antique ebonised sycamore jewellery box by French maker maker and "Louis Acouc Aine" who had appointments by King Louis-Phillipe and Napoleon III, as well as other royal family members. The superbly made box has strong brass edging, double stringing and exquisitely engraved inlay and engraved flush fitting carry handles on each side. With vacant shield shaped initial plate and ornate escutcheon.

The interior is lined in a blue silk velvet and features a removable jewellery tray fitted with eight compartments including two fitted for rings, earrings or cufflinks. Underneath this is a large storage compartment.

The lid of the jewellery box houses a removable free standing mirror with a brass strung frame and brass stand. It also has a small brass loop handle at the top so the mirror could be hung on a wall or suitable flat surface.

The lock bears the engraved manufacturer's mark "Louis Acouc Aine" Paris. and comes with a fully functional working lock and tasselled key. The key must be pushed in and turned anti clockwise to unlock.

The top of the box had a split when purchased, this has been repaired and can be seen in pictures we have provided. The box price has been reflected, please do not let this fault put you off the fantastic jewellery box. This has been in our possession for almost a year prior to selling so we can monitor the repair, the wood is stable and has not moved since our restoration.
Height: 6.75inch (17.15 cm)
Width: 14.25inch (36.20 cm)
Depth: 10.25inch (26.04 cm)

Date
Circa 1850
Price
£1,295.00
Call Dealer
Email Dealer
View other items from Mark Goodger Antiques