Bertram Walter Priestman RA ROI NEAC IS 1868 – 1951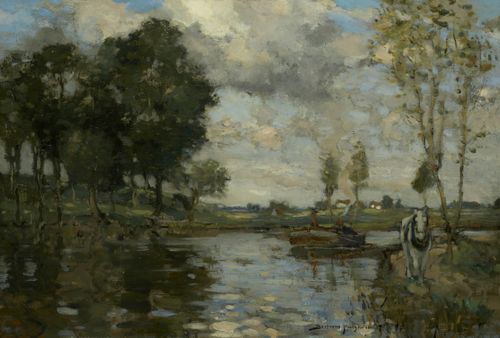 Description
Horse-drawn barge on the Stour
1907

A grey horse drawing a barge on the River Stour.
Oil on panel. Signed and dated "Bertram Priestman 07".

This scene is a view on the River Stour, which meets the sea at Harwich after flowing through Constable country. This location is based on a signed and closely related 1908 oil sketch which is inscribed on the reverse "Barge on the Stour". The painting incorporates a classic Priestman East Anglian sky, with the uncertainties of the weather reflected in the river surface. There were economic uncertainties, too, behind the idyllic rural scene.

Horse-drawn water transport was still, in 1907, a common sight although its economics were problematic and varied regionally. The Stour Navigation from Manningtree to Sudbury had originally been authorised by Act of Parliament in 1705 and by 1835 it was paying its shareholders a dividend of 14 per cent. Faced with competition from new railway building, the proprietors further improved the river by dredging and building new locks. The return on capital increased to 20 per cent in 1840 and 30 per cent in 1846. From that point to the end of the century the revenue was in steady decline, although the navigation had the advantage of being connected to the sea, carrying imports of corn and coal. Exports, such as flour and Sudbury bricks to be used in building the suburbs of south London, also maintained trade for many years. The last dividend, of 1.5 per cent, was declared for 1890. Maintenance became increasingly expensive and was paid for by sales of land. The shareholders at last resolved to wind up the company in 1913. It was revised, without success, as a public trust in 1918 and finally foundered in 1935. The painting, thankfully, has proved more enduring.

Height: 16.00inch (40.64 cm)
Width: 24.00inch (60.96 cm)

Condition
Very good
Date
1907
Price
£3,950.00
Call Dealer
Email Dealer
View other items from Strachan Fine Art Ltd.