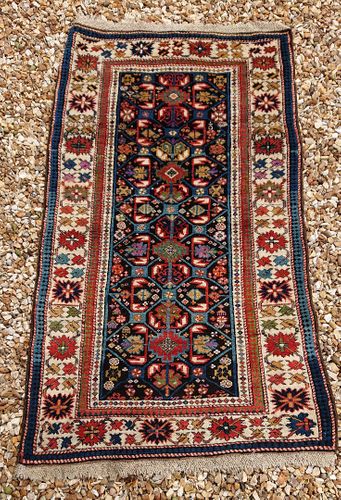 Description
Smart, late 19th-century Caucasian rug, possibly from the Kuba region in Azerbaijan.
The all-over field design on an off-black ground is an extremely complicated pattern which can be read in a number of ways. Scattered throughout the field are individual flower heads and comb motifs as well as a single minimalist human figure in white. This motif, however, could also be possibly read as a Christian symbol, which would place this rug further west, most likely the Karabagh region.
A series of minor borders and reciprocal borders flank the main border on a white ground with its repeated pattern of flower heads and four tendrils emanating from the flower (this design is sometimes called a "crab border").
The rug is in excellent condition and retains its original sumakh stitching on the kelim ends and the knotting on the fringes.
Height: 163.00cm (64.17 inches)
Width: 92.00cm (36.22 inches)

Condition
Excellent condition
Date
Circa 1890
Price
£3,500.00
Call Dealer
Email Dealer
View other items from Legge Carpets Ltd